When I was a child I loved going to the zoo! All the different, amazing animals were so cute. Today, there is a new zoo and it's 100 times better. It's a pug zoo populated by only the cutest pug animals and tended by master zookeeper, Gwen The Black Pug! @GwenTheBlackPug !
We have had the great fortune to be friends with Gwen for the past two years! Her amazing costumes and positivity bring such joy to our life every time we see her cute little face. We are so happy she agreed to be interview for this edition of PugTalk!
HI GWEN!
WHERE DO YOU LIVE?
Raleigh, NC
HOW DID YOU GET THE NAME GWEN?
My Uncle actually named me (he was my first daddy) and he loves comic books, so he named me after Gwen Stacy, who is Peter Parker's girlfriend in the original Spider Man comic books. She is also the Emma Stone character in the movies. My official name is Gwen Stacy but I go by Gwen.
DO YOU HAVE ANY NICKNAMES?
Yes! Gwen, Gwenny, puppy, baby girl, Grandpa calls me wiggly butt.
HA! WIGGLY BUTT! THATS AMAZING
HOW OLD ARE YOU?
I am 4 years old.
GWEN, WHAT DO YOU LOVE MOST ABOUT
LIVING IN NORTH CAROLINA?
I love the warm weather, even when it's hot outside. I love for Mommy to let me out on the deck so I can sunbath and cook in the sun! It feels so good! We have mild winters that are cold, but it usually only snows one time, so it's fun because the humans don't go to work and we all play in the snow! I get cold easily so I am happy it only snows one time.
TELL US ABOUT GWEN'S ZOO?
Gwen's zoo started with just a duck and a frog, the photos were very popular. So then mommy added a panda bear, and again it was popular. The idea was born, a pug zoo!! It started off silly and then just became even more silly! We are always trying to think up new pugimals to add to the zoo.
WE SEE YOU OFTEN MENTION
@AXLTHERUNNINGPUG AND @UNCLE ROCKY
WHO ARE THESE HANDSOME GENTELMEN?
Uncle Rocky was my Grandma's pug, he was the original family pug, the OG. He recently passed away on the 4th of July while we were visiting Grandma and it was a very sad time for us. Axl is one of my BFF's! He lives close to me, about 10 minutes away so we love to go on adventures! He just got a human baby brother so we haven't seen him much lately.
WHAT'S YOUR GREATEST TALENT?
Does eating count? Hehe I will eat or try to eat almost anything!
WHAT IS YOUR FAVORITE SNACK?
I love any sort of fruit! If mommy or daddy are eating any fruit I am crying to get a bite, luckily they almost always share.
DO YOU SLEEP IN OR WAKE EVERYBODY UP?
Totally wake everyone up. Once I am satisfied that they are all out of bed, I promptly go back to sleep.
DO YOU HAVE A FAVORITE TOY?
Tito! He is a stuffed bear that is almost as big as me that I have had since I was a baby.
DO YOU HAVE ANY BAD HABITS?
Nope, I am a lady and we never tell!
WHAT IS YOUR DREAM DATE?
An adventure in the woods with lots of exploring, maybe even splashing in a pond, and lots of snackies!
WHAT DO YOU DO WHEN YOUR NOT WORKING IN THE ZOO?
Me and Mommy do lots of social media help with Mid-Atlantic Pug Rescue and recently started helping do home visits for them as well. It makes us feel good to help puggies find new homes! We also are partnered with Winston Manner and absolutely love their harnesses and leashes, perfect for our pug/potato bodies!
WHERE CAN PEOPLE FIND YOU ONLINE?
INSTAGRAM: @gwentheblackpug
TWITTER: @gwentheblackpug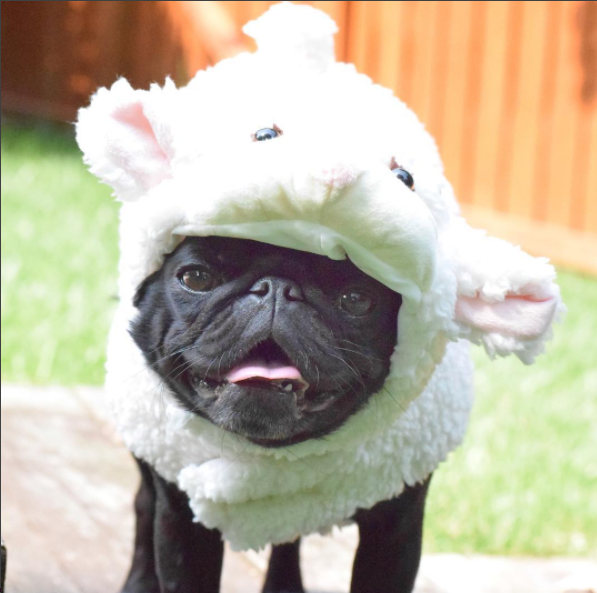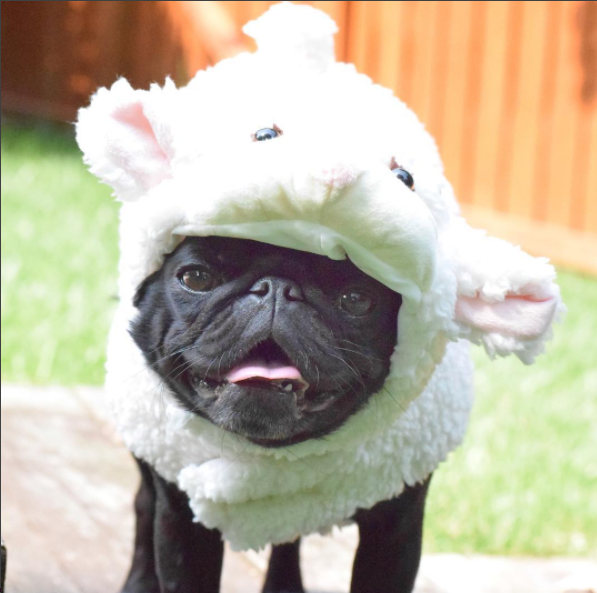 UP NEXT ----->
BEST PUG PRESENTS 2017